Blasé: Budget Local Culture Event App
UX/UI Design
Blasé is an event discovery app focusing on local culture events that are within a price range that is affordable to go without breaking budget.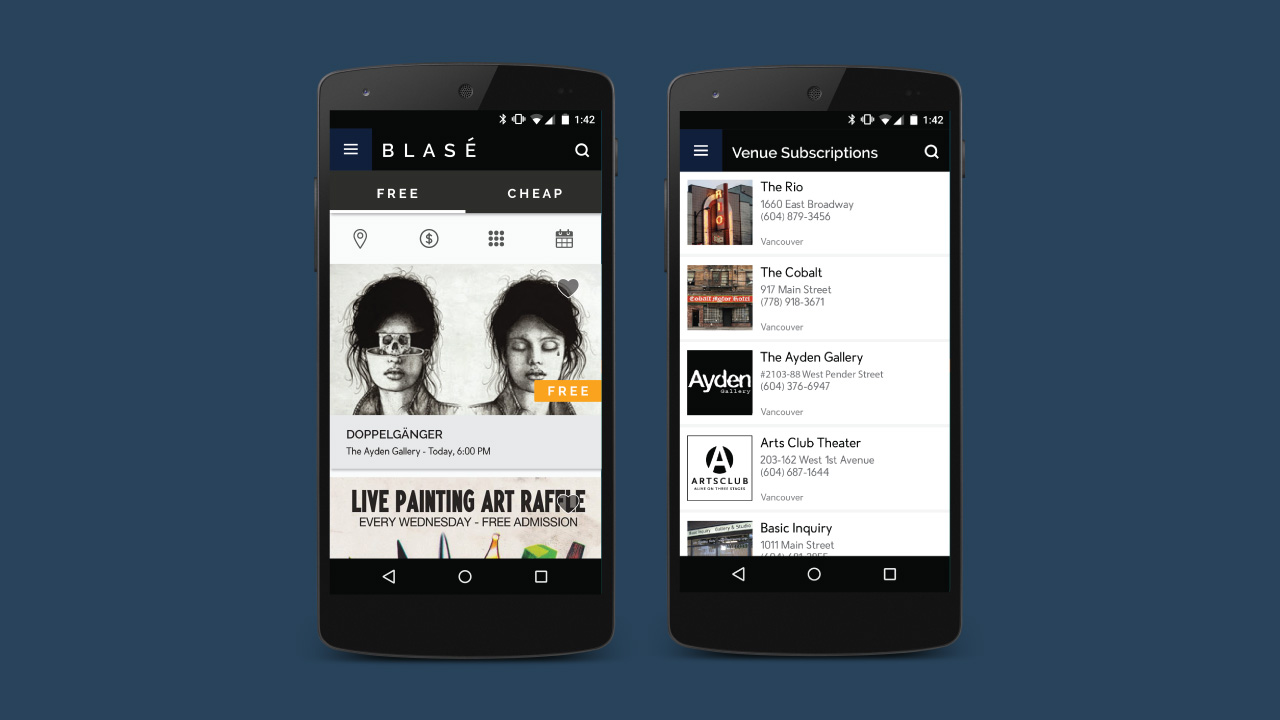 Part 1: Context
Blasé is intended to explore and answer accessibility for small, local events with little way of advertising on the mobile platform easily.
Not everyone is going to have the money or time to go to big events in a big city. Blasé gives exposure for these types of events and is provides easy search depending on type, price, area, or date. This was a project into mobile design and the UX process. It was designed to fit mobile screens and be ready for testing in higher fidelity prototypes.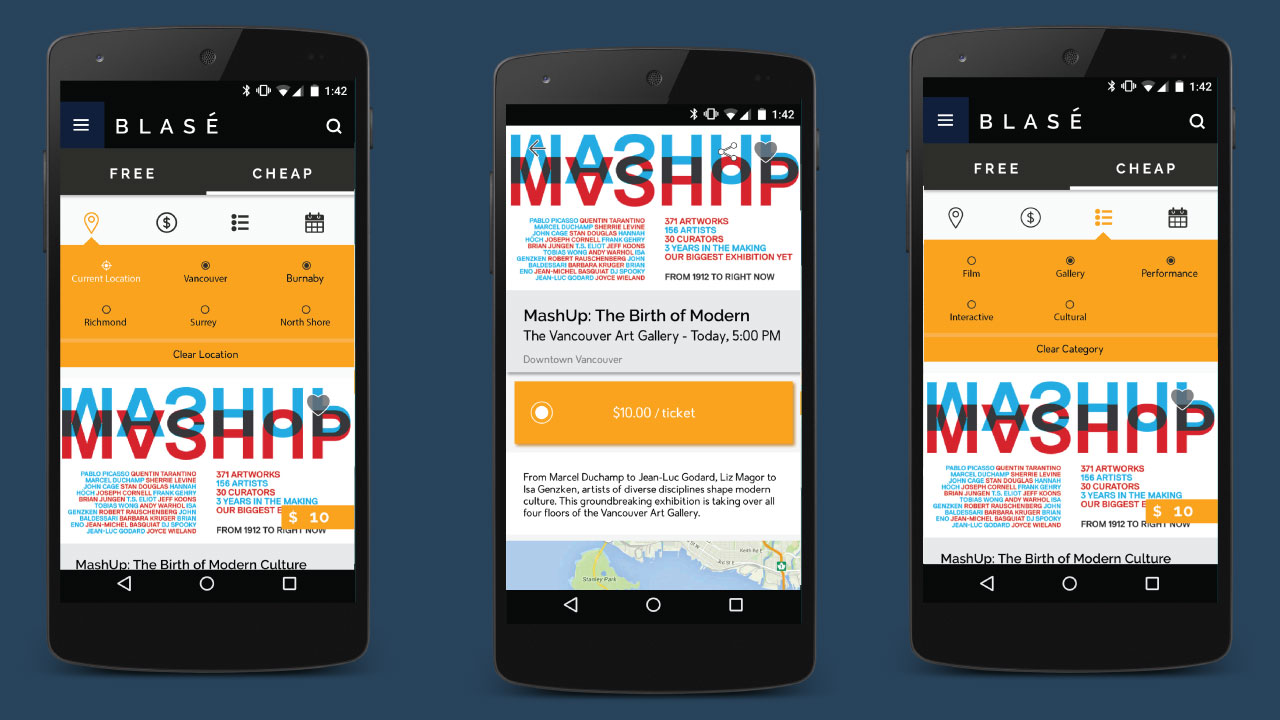 My Role:
Brainstorming initial ideas and iterations, Creating persona users, User research, mockup website, UI Design, Prototyping
Tools: Pen and paper, HTML, CSS, Adobe Phototshop, Adobe Illustrator, Adobe Premiere, Adobe after effects
---
Part 2: Process
Focus Area: Researching the Framwework
The app was designed to be intuitive and usable. I incorporated research of existing apps into journey frameworks and iterated rough flow before deciding on the most optimal user experience. The idea was to allow both vendors/performers and users to use the app easily. We needed to address venue information and customer attendence.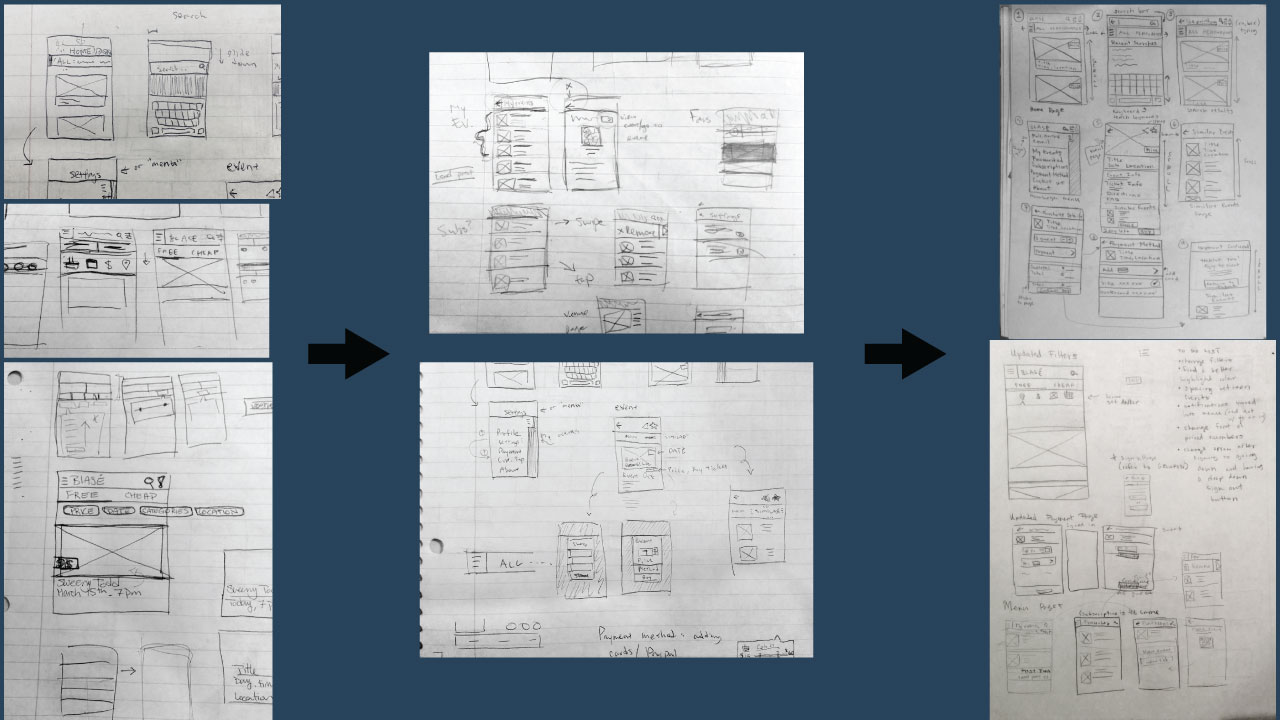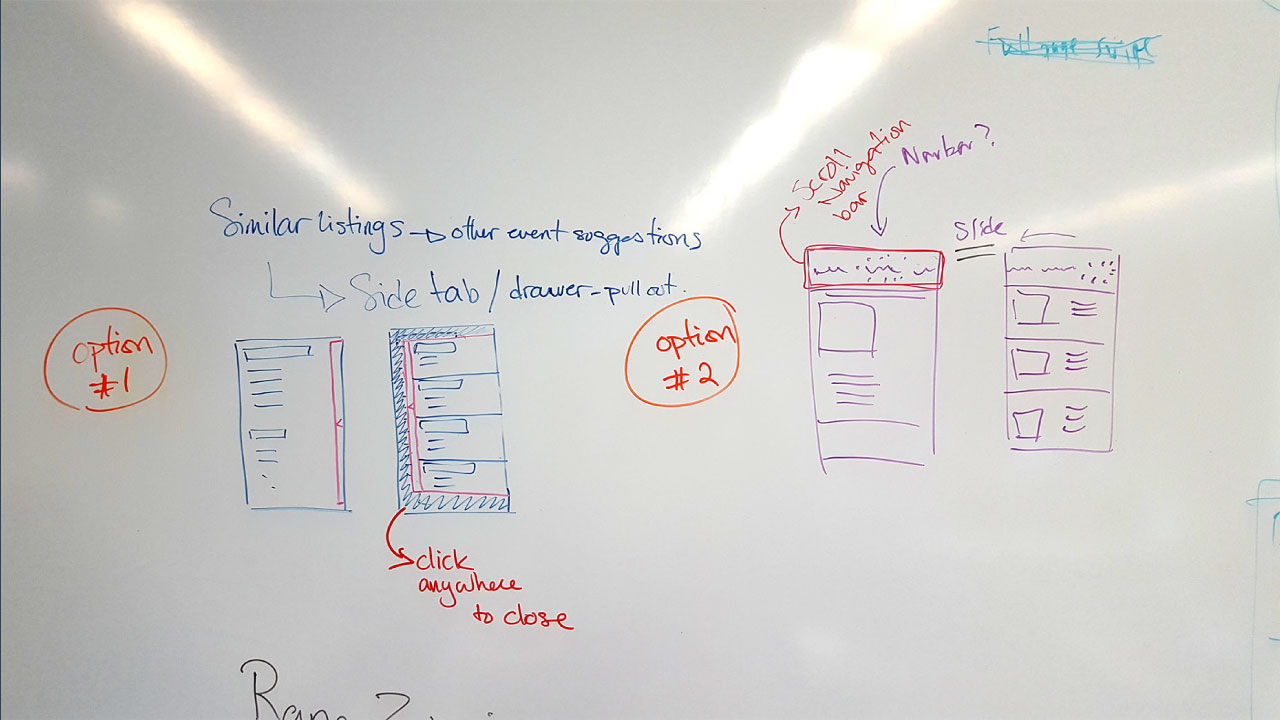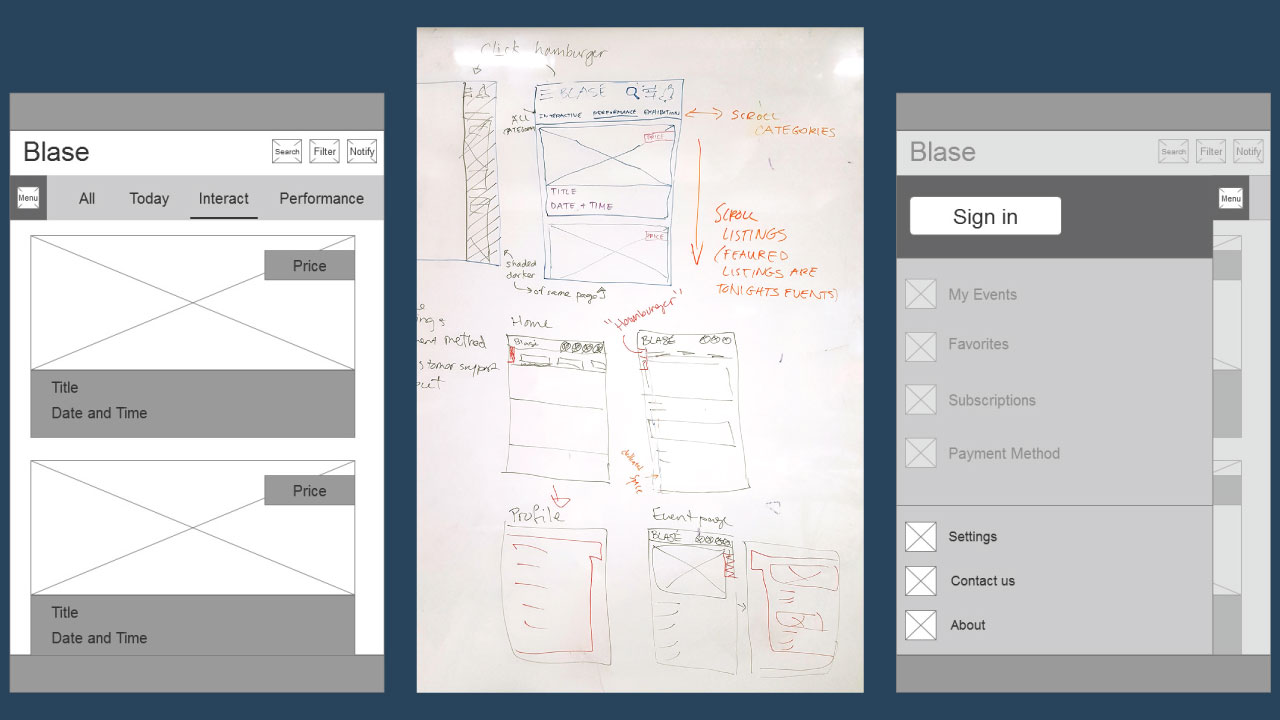 Iterating through, I created higher fidelity prototypes: adding in colour and material design. The design came together more and more as the designs were translated onto presentable screens.
---
Focus Area: Functions and Prototyping
This design tackles three issues: affordability, presence of small events, and tracking. Blasé targets users whom might be under budget or just wanting a free local culture event to go to for fun. Primarily for high school/collage/University students with a tight budget, this app is also useful for secondary users such as working adults, young adults, and parents whom want to show local culture to children for education/enjoyment.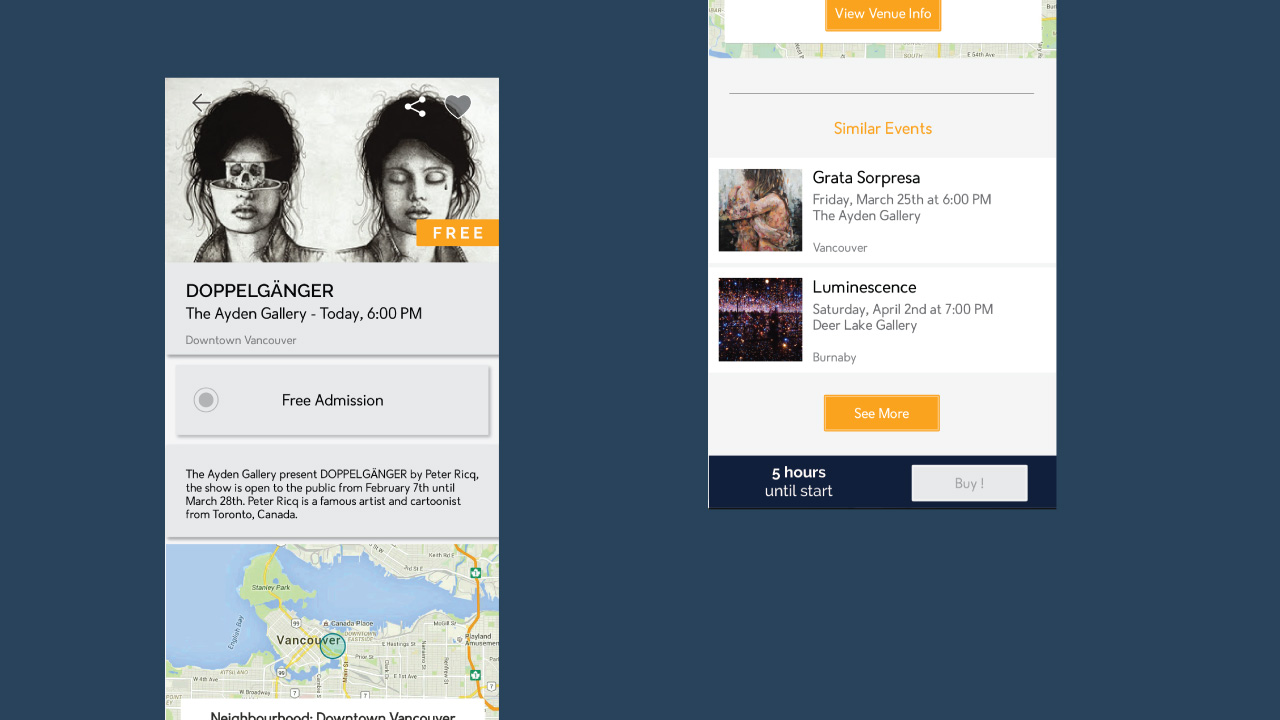 After searching for desired events, signing into the app with an account keeps track of recent plans or past events making planning easier.
Having an account in the app allows users to save areas of interest that may have more than one events going on or on different dates. It will also keep track of saved events that are recurring and subscribe to them to make joining even easier.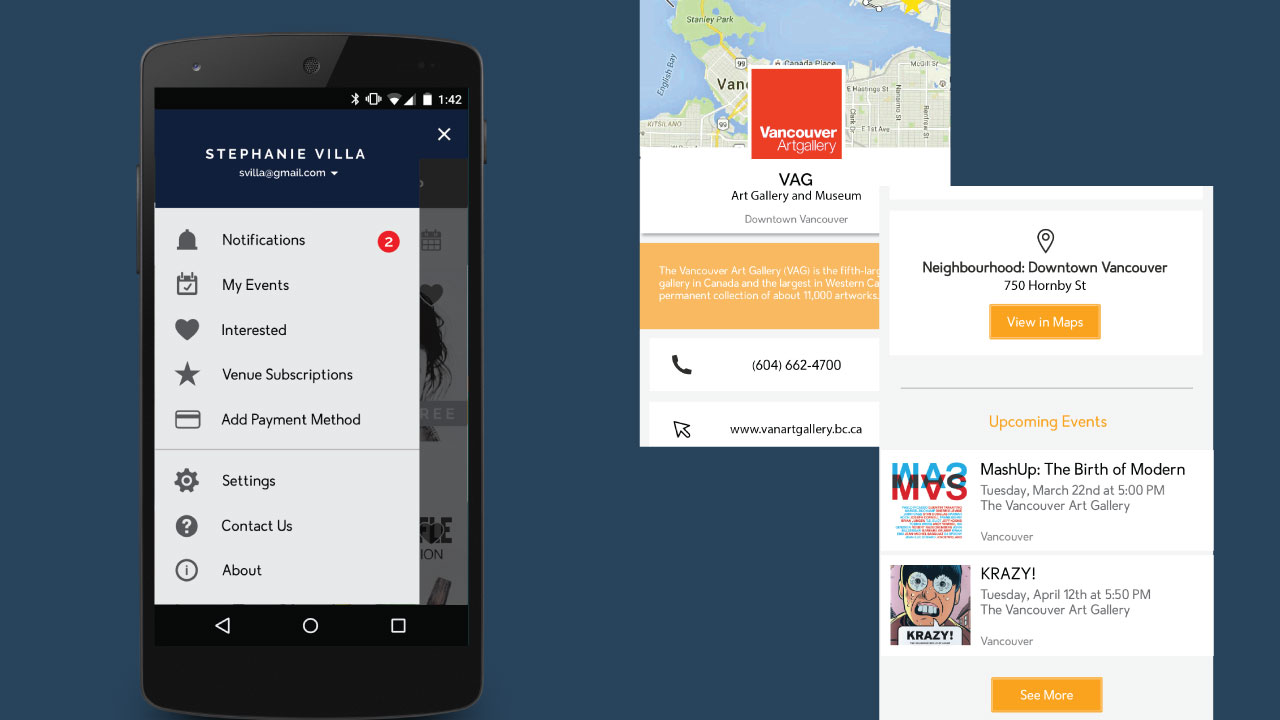 ---
Part 3: Reflection
Blasé is ready to be developed and tested
Blasé answers the problems by keeping the range local, inexpensive, and saving venues and repeating events. Being local and inexpensive, the events could be filled fast as easy as this app shows it to the right audience who would go to them. Venues for smaller events often have other small events happening at the same time which this app allows for even more exposure due to its functionality.
Personally, I learned and practised designing within constraints. A mobile dedicated app should be easy to use. The space allowed and main content to be shown are pllaced so that it can use all the screen properly. Non-important items can be tucked away but I would like to see if we could design a greater artifact than to use the hamburger menu and bring them to the fore-front without compromising the main content.